Self Loading Concrete Mixer 2.6 Cubic
Production Capacity: 2.6 Cubic Meter/Drum

Rated Power:78 Kw

Fuel Tank: 75 L

Fuel Tank: 500 L
Product Details
Configuration and Drawing
Technical Features
Self loading cement mixer for sale can achieve self loading, metering, automatically add water to stir, conveying and discharging, and can finish the delivery and site construction work. It can work without power supply, because the whole machine will supply sustainable power source. In addition, it uses drum stirring system, so it has good uniformity. Haomei self loading concrete truck mixer is like a combination of present concrete mixer and concrete batching plants.

In some special construction projects, which is far away from commercial concrete batching plant, such as, maintenance of concrete pavement road, bridge tunnel construction, township level highway construction, construction of defense facilities, high speed railway construction, maintenance of plant or building floor construction, etc, it will be equipped with on-board lighting system, and can achieve 24 hours construction work and improve the working efficiency. In addition, as one of the most reliable self loading concrete truck mixer suppliers, we will offer users the best solution of concrete mixing, delivering and placing.


Advantages of Haomei self loading cement mixer are:

1, The main hydraulic components are imported!
2, At least 5 workloads are saved per day!
3, Save electricity 100 degrees everyday without a blender!
4, Don't need concrete mixer truck!
5, Don't need wheel loader for feeding!


What we can do for you when you buying a self loading concrete truck mixer

1. Detailed Production introduction, including each part;
2. Welcome you to visit our self loading concrete mixer truck factory;
3. Show you real machine production process, working process of self loading concrete mixer truck;
4. Teach you or your operator how to handle self loading concrete mixer truck;
5. One year warranty and spare parts supply.

| | |
| --- | --- |
| Equipment Model | 2.6 cubic self loading concrete mixer |
| Drum geometrical capacity | 3580L |
| Discharge Capacity | 2600L |
| Engine Model | Yuchai 4102 Turbo-Charged |
| Rated Power | 78kw |
| Gear box model | ZL-280 power shift transmission |
| Gear | 4 forward 4 back |
| Fuel tank | 75L |
| Total hydraulic system capacity | 75 liters |
| Oil tank | 16 liters |
| Reducer | HJ80-43 |
| Hydraulic Pump | CBG9 2050/2032 |
| Hydraulic Motor | BM5-160 |
| Water tank | 500L |
| Water supply | Time relay |
| Overall dimensions(L*W*H) | 7800*2720*3000 |
| Wheelbase (mm) | 2615 |
| Curb Weight (kg) | 6500 |
| Drive Form | Torque converter |
| Drum rotate | 270º |
| Drum Mixing Speed (r/min) | 13 |
| Maximum grade | 30º |
| Chassis Max.Speed (km/h) | 30 |
| Maximum turning radius (mm) | 5300 |
| Minimum ground clearance (mm) | 380 |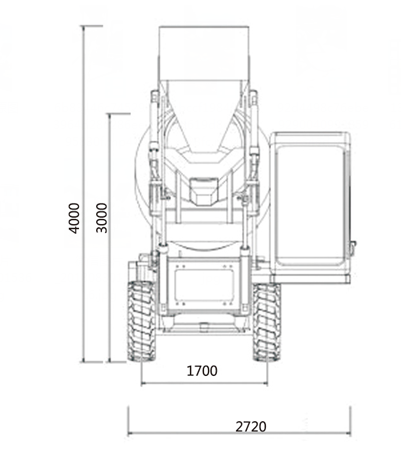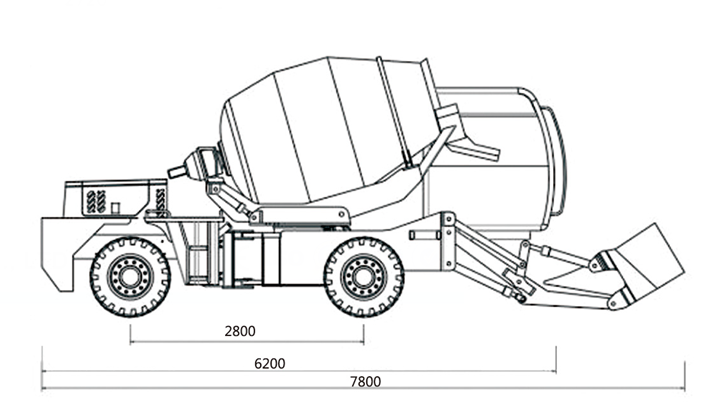 1. Shot blasting machine
When the elements are moved in to the machine, thousands of the little steel balls will heat on the surface of elements. Then the surface will become uneven, and it will increase the adhesive force. So it will ensure good painting.

2. Robot welding
Here are advanced technology of welding robots, which ensures high working efficiency and high accuracy

3. Closed painting room
In order to assure good painting and environmental protection, here is closed painting room. The machine will be shinning even after long time use. Moreover, we can also meet the environmental standards, so that we can manufacturer and delivery the equipment for our customers on time.

4. Sufficient elements stored
Here are sufficient elements stored in our factory, which ensures short delivery time. Meanwhile, we have ability to accept big orders from our customers.

5. Strict quality inspection
Here are quality inspection department, and strict inspection guarantees that the unqualitified equipment will be reworked and will not be delivered to our customers.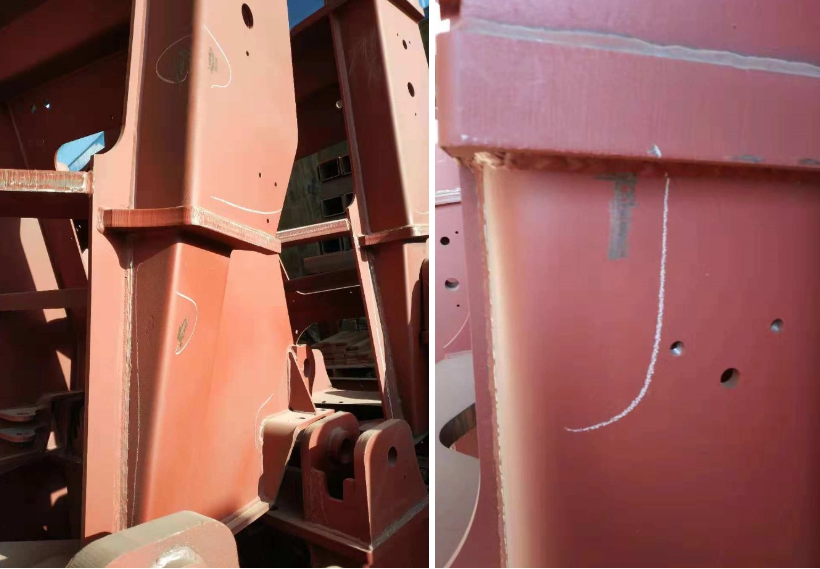 6. Test run
Here are wide areas for our customers to test the self loading concrete mixer truck, and welcome to test the mixer truck in our factory. Driving, feeding, mixing, discharging and climbing are available.

InquiryPlease feel free to submit your inquiry information to us. We will contact with you as soon as possible