Haomei Machinery in Philconstruct 2019
2019-11-27
On Nov 10, the Philconstruct 2019 was successfully concluded at SMX Convention Center, Pasay, Philippines. Philconstruct has been defining the landscape of building and construction and is the biggest construction show in the Philippines. The event will showcases products like construction equipment and materials, building and construction accessories, interior and exterior design materials, design products, building, and other related range of products etc.
After careful preparation, Haomei machinery high-performance HZS series
concrete batching plant
with superb technical level become a highlight in the concrete mixing equipment industry once again. The high efficiency and mixing performance have attracted many businessmen to stop to watch and consult, our sales manager Anna, Katrina, Shuzhi and Jayee offer sympathy and professional services. Many purchasers have brought the technical problems encountered in the processing site. After the technical guidance and process optimization of Haomei professional engineer, many customers are satisfied and reach the purchase intention on site. Our sales manager Anna have a customer who order a concrete batching plant! This is a feast of the industry and a journey of harvest. In this exhibition, we also brought back many valuable opinions from end users and distributors.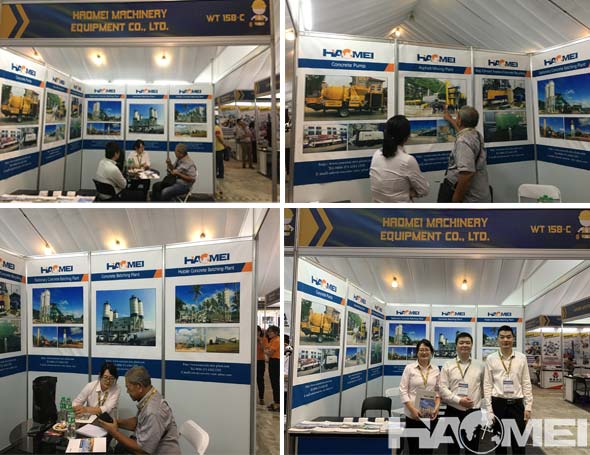 In recent years, we Haomei machinery has made long-term development in construction machinery industry, with remarkable achievements, certain brand accumulation and steady development. With good service ability, we have occupied a pivotal position in Philippines' market field. Nevertheless, we will continue to improve the technical system, speed up the process of service, and create more excellent construction equipment to serve the users and friends.