Asphalt batch mix plant manufacturer
2019.08.29
Haomei is a professional asphalt batch mix plant manufacturer in China, we offer high efficiency asphalt plant 40-400t/h for road construction projects. With over 20 years experience on producing asphalt batching and mixing equipment, Haomei has get good market reputation, we gain advanced technology on asphalt mixing plant, so the equipment has the characteristics of energy saving, high performance and accurate measurement.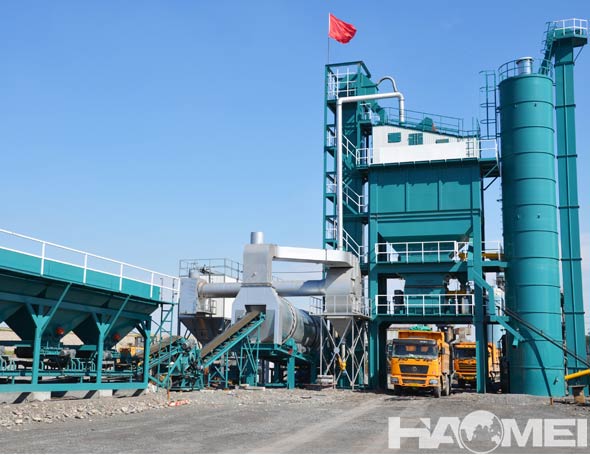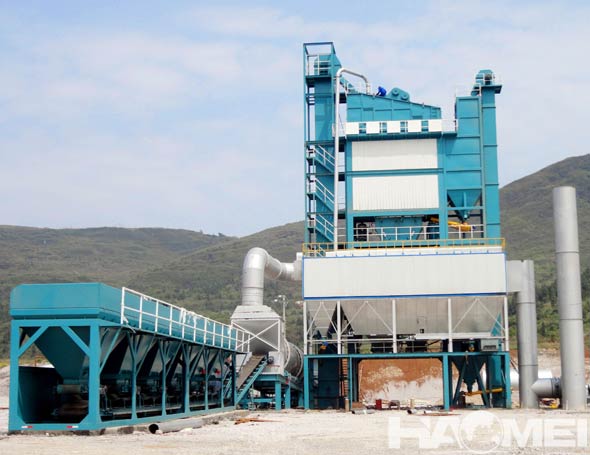 To improve the mixing quality, the accurate measurement is needed, so the batching system of asphalt batching plant is very important. For Haomei LB asphalt mixing plant, each silo is fed by a belt feeder controlled by a variable frequency speed control motor, which can realize single bucket adjustment and overall proportional adjustment. The primary configuration is accurate and the energy consumption is low. The aggregate silo is equipped with a silo vibrator for reliable feeding. The pulley adopts a specially designed "self-cleaning" roller to drive the surface of the roller to be glued to prevent the belt from slipping. The belt feeding system adopts special anti-wear and anti-pinch design, and is equipped with high wear-resistant rib belt for safe, which is reliable and has long service life. The batching system can easily change the layout and loading direction according to the needs of the user's site.
To reduce the energy consumption, the drying system of asphalt batch mix plant is the key device. The drying system is mainly composed of drying cylinder, main burner and fuel supply system. The drying cylinder adopts four geared motors and is connected with four friction wheels through the crosshead universal coupling, which has the advantages of installation error compensation, high transmission efficiency and stable transmission. The inner extraction blade is specially designed for the drying cylinder, and the external insulation layer enables the heat to be transmitted to the aggregate more. The exhaust temperature of the tail of the cylinder is lower than 120 °C, and the thermal efficiency is higher. The utility model has the advantages of compact structure and convenient adjustment, adopting the advanced burner, the adjustment ratio is 8:1, and the fuels such as diesel oil, heavy oil, residual oil, combustible gas and coal powder can be selected. It has good economy and adaptability. Asphalt batch mix plant manufacturer also adopt advanced infrared temperature measurement and temperature control system all use imported components to ensure temperature control accuracy and reliability.