Self Loading Concrete Mixer 1.2 Cubic
Production Capacity: 1.2 Cubic Meter/Drum

Rated Power: 55kw

Fuel tank: 63L

Water tank: 400L
Product Details
Configuration and Drawing
Technical Features
Mobile self loading concrete mixer
is an efficient concrete solution which can automatically fulfill the work of loading, mixing, transportation and unloading. Thus it can replace 4-6 workers and significantly cut the labor cost. The compact design makes it flexible in narrow and limited space. Haomei self loading concrete mixers are available in 1.2cbm, 1.6cbm, 2.0cbm, 2.6cbm, 3.0cbm, 3.5cbm and 4.0cbm to meet demands of various projects. Haomei self loading concrete mixer truck will finish per batch in 12-15 minutes, one hour can finish at least 4 batches.
Advantages of Haomei 1.2 m³ mobile self-loading Concrete Mixer
1.Customize your machine according to your needs.
2.Conventional bucket or clamshell bucket& Skimmer for road or rail use.
3.Pressure transducers or load cells for weighing.
4.Alternative environment friendly powertrain solutions and Electric propulsion soon available.
5.Realizing automatic loading and discharging, largely improve working efficiency and cut down cost.
6. Short mixing cycle means high productivity and output.
We Promise…
1. One year warranty;
2. Go to your site and help you installation and debug;
3. Free training for your operator;
4. Any problem, we will be here to serve you, or go to your city, check and maintain;
5. Spare parts are in stock, any needs, please leave your message on my website, we will arrange shipment within 48 hours;
6. Introduce other users to buy our self loading concrete mixers, we will give you some commission.
In addition, Haomei mobile self loading concrete mixers have obtained ISO certificate, you don't have to worry about the quality of our products. And the second reason is our considerate service. Recently, we Haomei have updated our own enterprise culture. Our prospect is to build global industrial products one-stop service platform. Of course, the core of it is the service.
| | |
| --- | --- |
| Equipment Model | 1.2 cubic mobile self loading concrete mixer |
| Drum geometrical capacity | 1700L |
| Discharge Capacity | 1200L |
| Engine Model | Yunnei 490 Turbo-Charged |
| Rated Power | 55kw |
| Gear box model | ZL-265 Power Shift Gearbox |
| Gear | 4 forward 4 back |
| Fuel tank | 63L |
| Total hydraulic system capacity | 63 liters |
| Oil tank | 16 liters |
| Reducer | KY07-2-0 |
| Hydraulic Pump | FC50/40 |
| Hydraulic Motor | BM5-120 |
| Water tank | 400L |
| Water supply | Time relay |
| Overall dimensions(L*W*H) | 6400*2550*2450 |
| Wheelbase (mm) | 2400 |
| Curb Weight (kg) | 4185 |
| Drive Form | Torque converter |
| Drum rotate | 270º |
| Drum mixing speed (r/min) | 13 |
| Chassis Max.Speed (kn/h) | 30 |
| Maximum grade | 30º |
| Maximum turning radius (mm) | 4700 |
| Minimum ground clearance (mm) | 280 |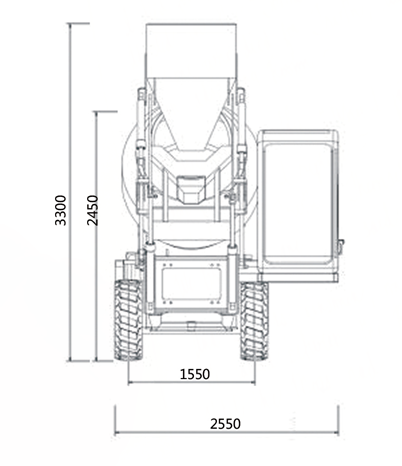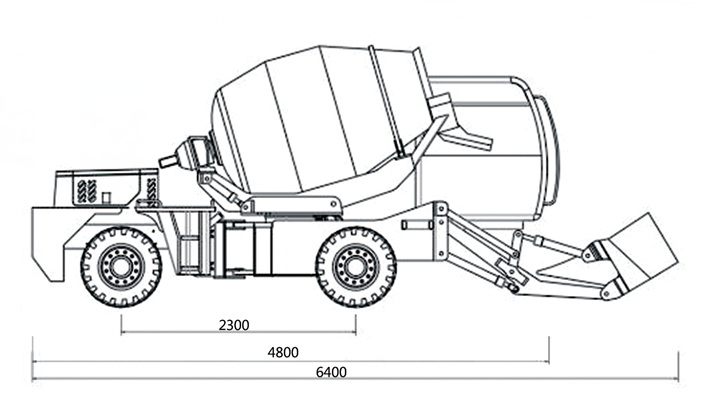 1. Shot blasting machine
When the elements are moved in to the machine, thousands of the little steel balls will heat on the surface of elements. Then the surface will become uneven, and it will increase the adhesive force. So it will ensure good painting.

2. Robot welding
Here are advanced technology of welding robots, which ensures high working efficiency and high accuracy

3. Closed painting room
In order to assure good painting and environmental protection, here is closed painting room. The machine will be shinning even after long time use. Moreover, we can also meet the environmental standards, so that we can manufacturer and delivery the equipment for our customers on time.

4. Sufficient elements stored
Here are sufficient elements stored in our factory, which ensures short delivery time. Meanwhile, we have ability to accept big orders from our customers.

5. Strict quality inspection
Here are quality inspection department, and strict inspection guarantees that the unqualitified equipment will be reworked and will not be delivered to our customers.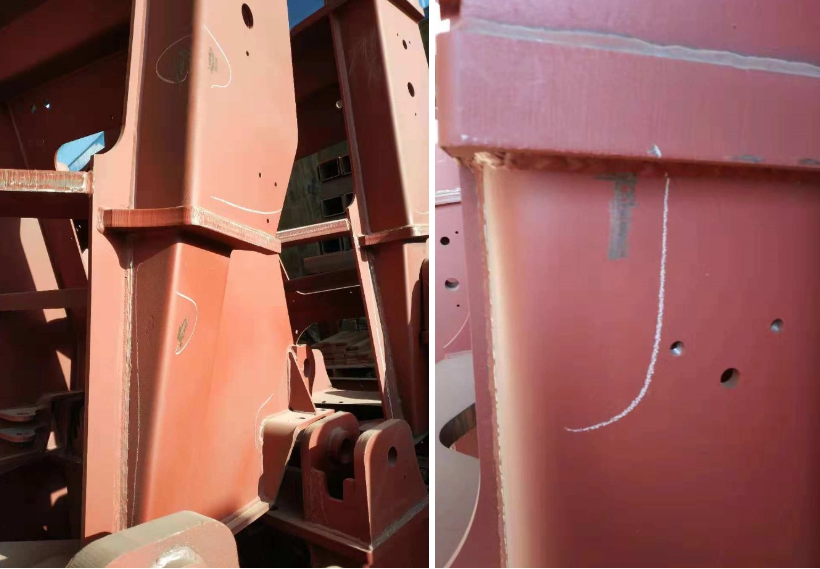 6. Test run
Here are wide areas for our customers to test the self loading concrete mixer truck, and welcome to test the mixer truck in our factory. Driving, feeding, mixing, discharging and climbing are available.

InquiryPlease feel free to submit your inquiry information to us. We will contact with you as soon as possible