Self Loading Concrete Mixer 4.0 Cubic
Production Capacity: 4.0 Cubic Meter/Drum

Rated Power:85 Kw

Fuel Tank: 230 L

Water Tank: 660 L
Product Details
Configuration and Drawing
Technical Features
Self loading mobile concrete mixer is a "everywhere mobile batching plant". Nowadays,
self loading mobile concrete mixer
truck has more and more wide use. Compared to traditional concrete mixer truck, it is flexible and convenient. Besides, self loading concrete mixer mobile can self load, mix and discharge, which greatly improve the productivity, reduce the production time and cost. What's more, this self loading mobile concrete mixer is suitable for engineering constructions of a variety of special conditions, crowded city and remote areas.
Characteristics and advantages of Haomei self loading concrete transit mixer
1.According to the capacity of the mixing drum, we divide our self loader concrete mixer truck into 1.2m3, 1.8m3, 2.6m3, 3.5m3, 4m3, 5.5m3 and 6.5m3.
2.It is a machine that can be operated by one worker. It will highly reduce the cost on the labor.
3.The self loading concrete truck mixer has a stable performance and long service time. We use top quality steel to manufacture the machine. The engines we adopt are famous brand in domestic.
4.The self loading concrete mixer truck has good quality with competitive price.
5. Haomei self loading concrete mixer has realized Fully automatic loading and discharging.
Application of Haomei self loading mobile concrete mixers are:
Tunneling
Industrial structures
Urban Infrastructures
Hydro and Thermal Power
Irrigation and Canal
Curb Forming
Housing & Buildings
Roads, Bridges & Flyovers
Paving & Piling
Railways
Transporting
Airport & Seaport
Trenching
The self loading mobile concrete mixer supply of our company is abundant. Our company has won a good reputation from many customers. The self loading concrete mixer is sold very well all over the world. Our self loading concrete mixer machine and small concrete mixer has been exported to many countries, such as Algeria, Egypt, Russia, Ukraine, Australia, Argentina, Brazil, Saudi Arabia, Libya, Syria, etc. As we all know,
self loading concrete mixer price
includes many aspects, purchasing cost, transporting cost, installing cost, maintaining cost, repairing cost and so on. Our salesman also can visit your construction site and give you some good suggestions. From planning a construction site to installing self-loading concrete mixer for sale, our salesman will try their best to help you.
| | |
| --- | --- |
| Equipment Model | 4.0 cubic self loading concrete mixer |
| Drum geometrical capacity | 6000L |
| Discharge Capacity | 4000L |
| Engine Model | YCD4J22G |
| Rated Power | 85kw |
| Gear box model | ZL-280 power shift transmission |
| Gear | 4 forward 4 back |
| Fuel tank | 230L |
| Total hydraulic system capacity | 170 liters |
| Oil tank | 16 liters |
| Reducer | KY07-5-J |
| Hydraulic Pump | Parker pump |
| Hydraulic Motor | HAA2FM56/61W-VTD527 |
| Water tank | 660L |
| Water supply | Time relay |
| Overall dimensions(L*W*H) | 7500*2850*3600 |
| Wheelbase (mm) | 2450 |
| Curb Weight (kg) | 8500 |
| Drive Form | Torque converter |
| Drum rotary | 290º |
| Drum Mixing Speed (r/min) | 17 |
| Max.Speed (km/h) | 35 |
| Maximum grade | 30º |
| Maximum turning radius (mm) | 4000 |
| Minimum ground clearance (mm) | 330 |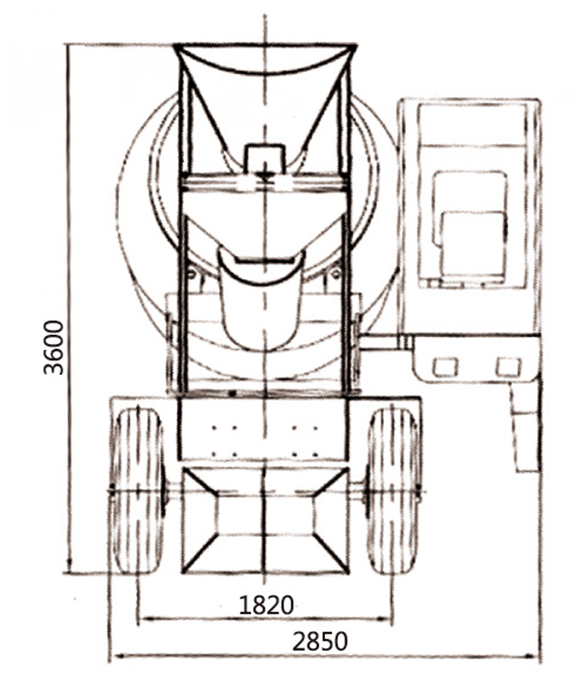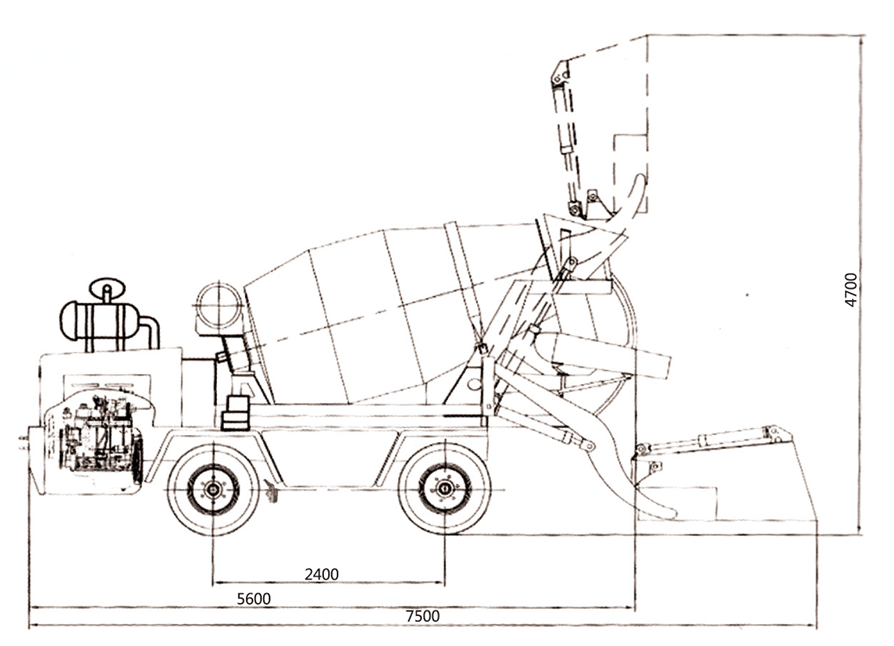 1. Shot blasting machine
When the elements are moved in to the machine, thousands of the little steel balls will heat on the surface of elements. Then the surface will become uneven, and it will increase the adhesive force. So it will ensure good painting.

2. Robot welding
Here are advanced technology of welding robots, which ensures high working efficiency and high accuracy

3. Closed painting room
In order to assure good painting and environmental protection, here is closed painting room. The machine will be shinning even after long time use. Moreover, we can also meet the environmental standards, so that we can manufacturer and delivery the equipment for our customers on time.

4. Sufficient elements stored
Here are sufficient elements stored in our factory, which ensures short delivery time. Meanwhile, we have ability to accept big orders from our customers.

5. Strict quality inspection
Here are quality inspection department, and strict inspection guarantees that the unqualitified equipment will be reworked and will not be delivered to our customers.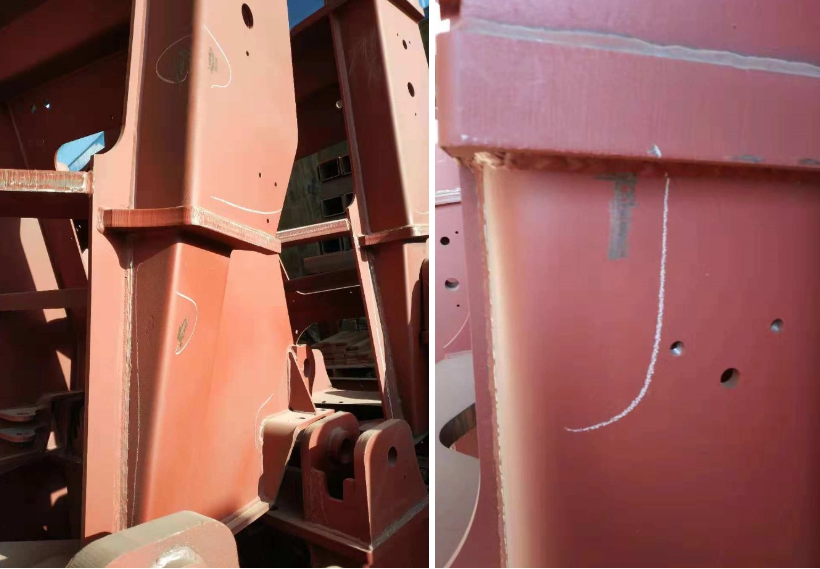 6. Test run
Here are wide areas for our customers to test the self loading concrete mixer truck, and welcome to test the mixer truck in our factory. Driving, feeding, mixing, discharging and climbing are available.

InquiryPlease feel free to submit your inquiry information to us. We will contact with you as soon as possible