Self Loading Concrete Mixer 6.5 Cubic
Production Capacity: 6.5 Cubic Meter/Drum

Rated Power: 92 kw

Fuel Tank: 370 L

Water Tank: 1465 L
Product Details
Configuration and Drawing
Technical Features
Self-loading concrete mixer 6.5 cubic meter makes full use of the function of concrete transit mixer and mixing plant, which realizes the automatic loading, metering, mixing and discharging of concrete.
Self loading transit mixer
can realize the transportation of concrete at construction sites, it greatly improves the working efficiency and reduces the production time and cost. With the continuous demand of construction market, self loading concrete transit mixer will gradually show its importance and advantages.
Components of self loading concrete transit mixer truck
Self loading concrete transit mixer consists of a cab, a chassis, a drive system, a hydraulic system, an unloading lifting cylinder, a speed reducer, a mixing tank, a rotating frame, a rotating disk, a hopper, and a shovel. Self loading concrete mixers have compact structure and it mainly consists of 5 parts:
1. Under the mixer is chassis, which is to support the mixer. Its powerful engine offers power and ensures that the machine can function on and on;
2. Mixing drum is driven by the powerful engine and achieves rapid mixing, mixing quality is high, in addition self loader mixer, SICOMA twin shaft concrete mixer also has advantages of large output and good uniformity;
3. Hydraulic system is the core of discharging materials, this kind of discharging method has been put into wide use, and its discharging speed is pretty fast,which can effectively save the construction cost;
4. Independent water supply system can offer the water continuously and ensure the normal function of the machine;
5. The space of the operating room is small, but can achieve perfect working process. It has attractive appearance and compact structure, all the compositions co-operate fully with each other and run efficiently.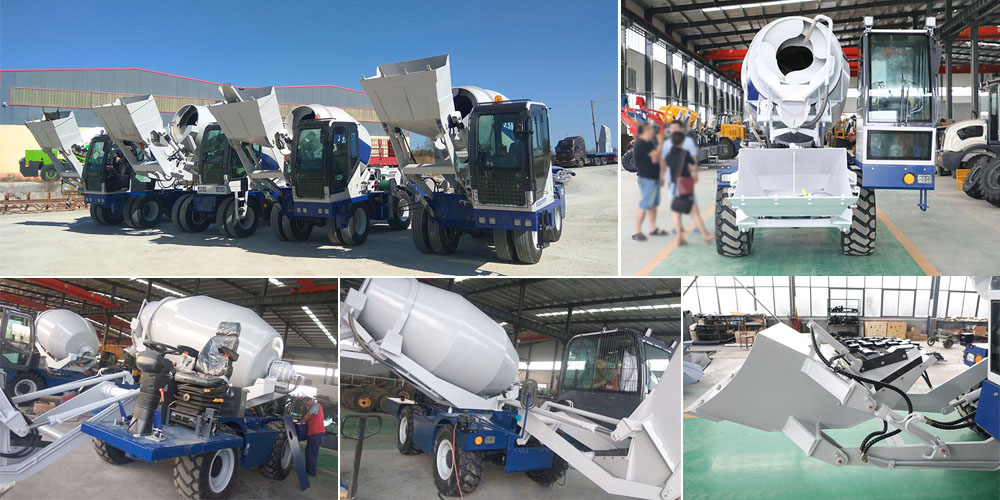 Advantages of Haomei Self Loading Concrete Mixer 6.5 Cubic Meter
1. Self loading concrete mixture for sale can rotate 270 degrees;
2.Self load, meter, mix and discharge;
3.Compact structure and easy movement—four wheels steering;
4. High working efficiency and less energy consumption;
5. High stirring quality and short stirring time.
6. The main hydraulic components are imported!
7. At least 5 workloads are saved per day!
8. Save electricity 100 degrees everyday without a blender!
Haomei Service Promise:
1. One year warranty;
2. Go to your site and help you installation and debug;
3. Free training for your operator;
4. Any problem, we will be here to serve you, or go to your city, check and maintain;
5. Spare parts are in stock, any needs, please leave your message on my website, we will arrange shipment within 48 hours;
6. Introduce other users to buy our self loading concrete mixers, we will give you some commission.
| | |
| --- | --- |
| Equipment Model | 6.5 cubic Self Loading Transit Mixer |
| Production Capacity | 6.5 Cubic Meter/Drum |
| Engine Model | Weichai deutz 6105 Turbo-Charged |
| Rated Power | 92kw//125ps |
| Gear Box Model | ZL-315 Power Shift Gearbox |
| Gear | 2 Forward 2 Back |
| Fuel Tank | 370L |
| Fuel consumption L / h | 13.25L |
| Total Hydraulic System Capacity | 278 Liters |
| Oil Tank | 16 Liters |
| Reducer | KY07-5-J |
| Hydraulic Pump | Inter pump |
| Hydraulic Motor | SUNNY63 |
| Water Tank | 1465L |
| Water Supply | Time Relay |
| Overall Dimensions(L*W*H) | 8450*3050*4830 |
| Total Weight | 12520kg |
| Drum Capacity | 9000L |
| Drum rotation speed | 16.5 rpm |
| Wheel base | 2,850 mm |
| Max. speed | 40 km/h |
| Max. climbing degree | 45° |
| Min. turning radius | 4,800 mm |
| Min. ground clearance | 350 mm |
| Left and right track | 2100mm |
| Sand feeding time (minutes / tank) | 12 |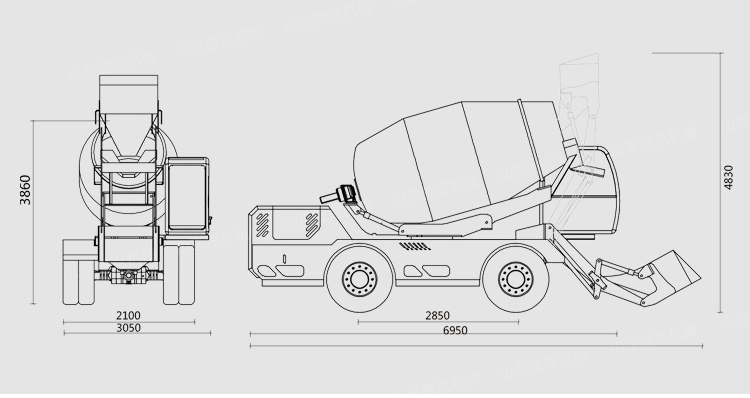 1. Shot blasting machine
When the elements are moved in to the machine, thousands of the little steel balls will heat on the surface of elements. Then the surface will become uneven, and it will increase the adhesive force. So it will ensure good painting.

2. Robot welding
Here are advanced technology of welding robots, which ensures high working efficiency and high accuracy

3. Closed painting room
In order to assure good painting and environmental protection, here is closed painting room. The machine will be shinning even after long time use. Moreover, we can also meet the environmental standards, so that we can manufacturer and delivery the equipment for our customers on time.

4. Sufficient elements stored
Here are sufficient elements stored in our factory, which ensures short delivery time. Meanwhile, we have ability to accept big orders from our customers.

5. Strict quality inspection
Here are quality inspection department, and strict inspection guarantees that the unqualitified equipment will be reworked and will not be delivered to our customers.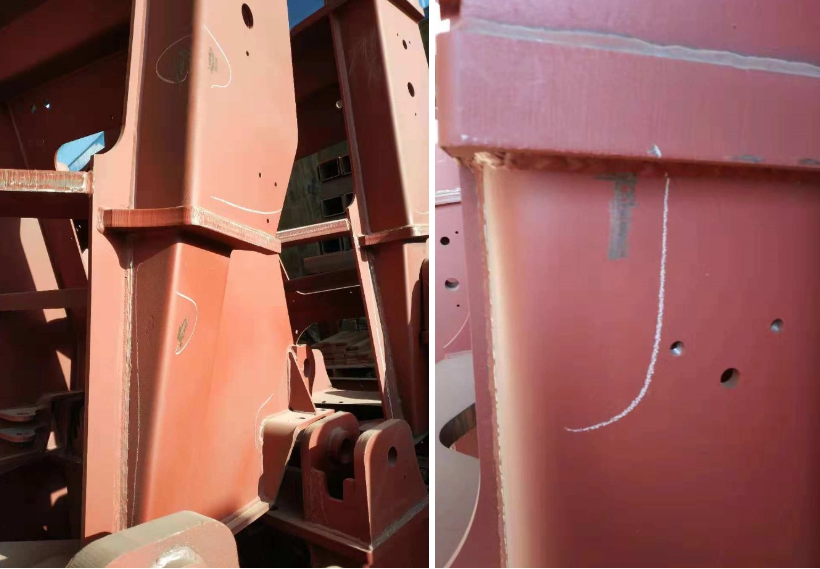 6. Test run
Here are wide areas for our customers to test the self loading concrete mixer truck, and welcome to test the mixer truck in our factory. Driving, feeding, mixing, discharging and climbing are available.

InquiryPlease feel free to submit your inquiry information to us. We will contact with you as soon as possible