China concrete plant suppliers for engineering project
2018.12.19
The engineering concrete batching plant refers to the mechanical equipment that is produced for a certain engineering project, the china concrete plant suppliers are the first choice for the engineering batching plant for projects. Here we will introduce the aspects of selecting a suitable engineering concrete mixing plant for our projects.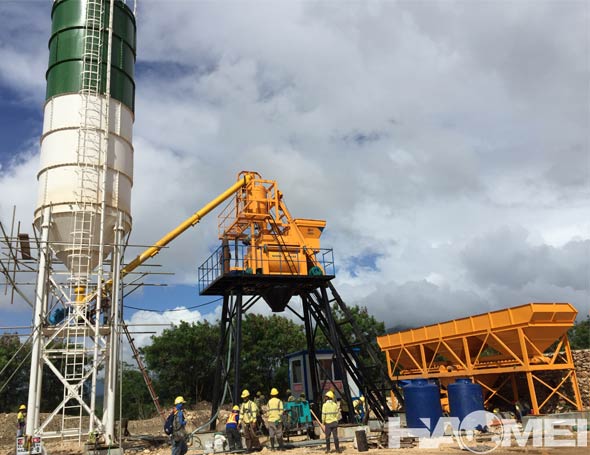 1.Selection of equipment specifications for engineering concrete batching plant.
If the china concrete plant is used internally by the construction department, the production capacity of the purchased china concrete plant should be determined according to the building construction capacity and the amount of concrete used. For roads or small construction projects, a concrete mixing machine with a capacity of 1 to 1.5 m3 is generally used. For example, as an external concrete mixing station, according to the economic development of the region, it is expected that the demand for concrete in the market under the jurisdiction and the investment capacity will determine the size of the concrete mixing plant. Generally, the concrete mixer with a capacity of 1.5 m3 or more is selected.
2.Selection of the configuration of the engineering concrete batching plant.
Engineering concrete mixing plant should choose high quality and low price products. According to the amount of funds, determine the scale and grade of the engineering concrete mixing plant. If the investment scale is small, it is possible to use a batching plant that is all domestically produced parts and a host with a lower cost. For example, the HZS75 concrete batching plant uses a twin shaft concrete mixer driven by a single cylindrical gear reducer, which is less than 1500 dollars lower than the drive type of two needle-line balance reducers. If the investor has sufficient funds, it can stipulate the use of high-quality system components in the contract.
3.Selection of site for engineering concrete mixing plant.
When selecting the site of the engineering concrete mixing station, it should ensure that the distance between the site and the sand material yard is close, ensuring sufficient water supply and being away from residential areas. If the hillside topography can be fully utilized, the concrete batching plant site can be placed on the higher ground level of the hillside, which can reduce the feeding height of the batching machine, so that the climbing angle of the loading machine is small or no climbing, which saves energy and reduces abrasion. The china concrete plant suppliers suggest that, care should be taken to avoid ground and underground cables, power supplies or communication cables when installing equipment.