Concrete line pump truck for sale
2020.01.03
The concrete line pump truck for sale is a kind of equipment which integrates the pumping system for pumping concrete and the boom system for distributing concrete into the vehicle chassis. There are many types of concrete boom pump trucks, but the basic components are the same. Concrete line pump trucks with boom are mainly composed of six parts: chassis, boom system, turret, pumping system, hydraulic system and electrical system.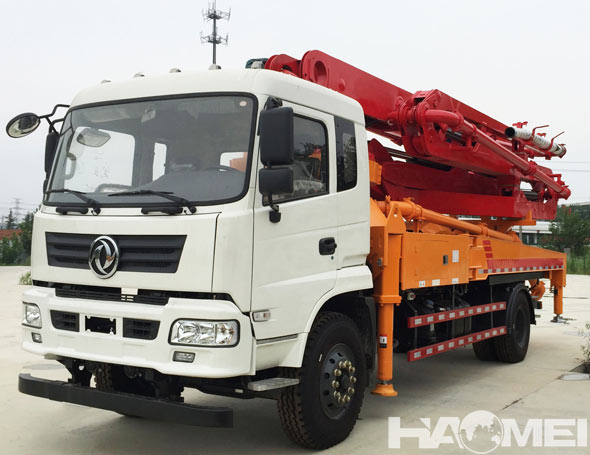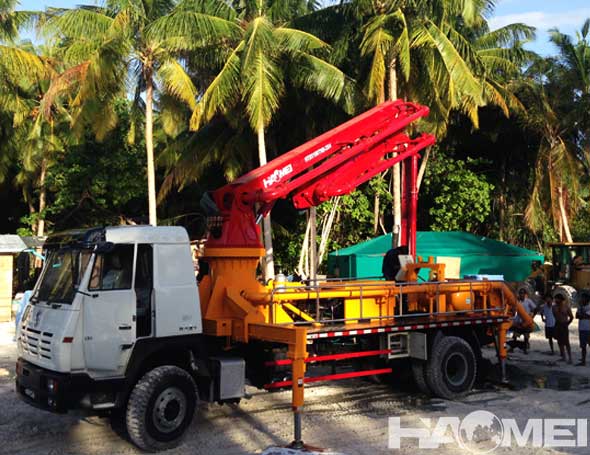 1.The chassis is composed of automobile chassis, PTO (transfer case), and beams;
2.The boom system of concrete pump truck with boom is composed of several sections, such as a boom section, connecting rods, oil cylinders and connectors;
3.The turret is composed of a turntable, a slewing mechanism, a fixed turret (connecting frame), and a supporting structure.
4.The pumping system consists of six parts: pumping mechanism, hopper, S valve assembly, swinging mechanism, stirring mechanism, piping assembly and boom piping;
5. The hydraulic system is mainly divided into pumping hydraulic system and boom hydraulic system. The pumping hydraulic system includes a main pumping oil system, a distribution valve oil system, a mixing oil system and a water pump oil system. The boom hydraulic system includes three parts: a boom oil system, a leg oil system and a slewing oil system. The hydraulic system is mainly composed of hydraulic pumps, valve groups, accumulators, hydraulic motors and other hydraulic components;
6. The electrical system of concrete line pump truck for sale is mainly composed of control cabinet, remote control and other electrical components.