HZS60 Stationary Concrete Batching Plant
Productivity: 60m3/h

Capacity of Mixer: 1.0m3

Discharge Height: 3.8m

Aggregate Bin: 3
Description
Parameter
Drawing
1. Description of HZS60 Concrete Batching Plant:
HZS60 series concrete batching plant belongs to compulsory and efficiency equipment, it can produce various kinds of concrete including quaking concrete and hard concrete, with high produce efficiency, it is widely used large and medium scale building works, road and bridge works and concrete products prefabrication plants, and is an ideal equipment to produce commercial concrete.
2. Short Features of HZS60 Concrete Batching Plant:
1. Adopts modular structure, easy to install and assembly and convenient to transport.
2. The mixing console adopts JS1000 twin shaft compulsory concrete mixer.
3. Measurement of components and control components are importing from USA, Japan, Germany.
4. Computer control system can keep the accuracy and stable measurement performance.
5. Good choice for commercial concrete
| Specification | Unit | Value |
| --- | --- | --- |
| Productivity | m3/h | 60 |
| Capacity of Mixer | m3 | 1 |
| Discharge Height | m | 3.8 |
| Aggregate Bin | Quantity | 3 |
| Capacity of Aggregate Bin | m3 | 10 |
| Max. Weighing Value of aggregate | kg | 3000 |
| Max. Weighing Value of cement | kg | 600 |
| Max. Weighing Value of water | kg | 400 |
| Max. Weighing Value of additive | kg | 50 |
| Feeding Type | / | Belt |
| Cement Silo | / | Optional |
| Cement Screw Conveyor | / | Optional |
| Control Mode | / | Auto control |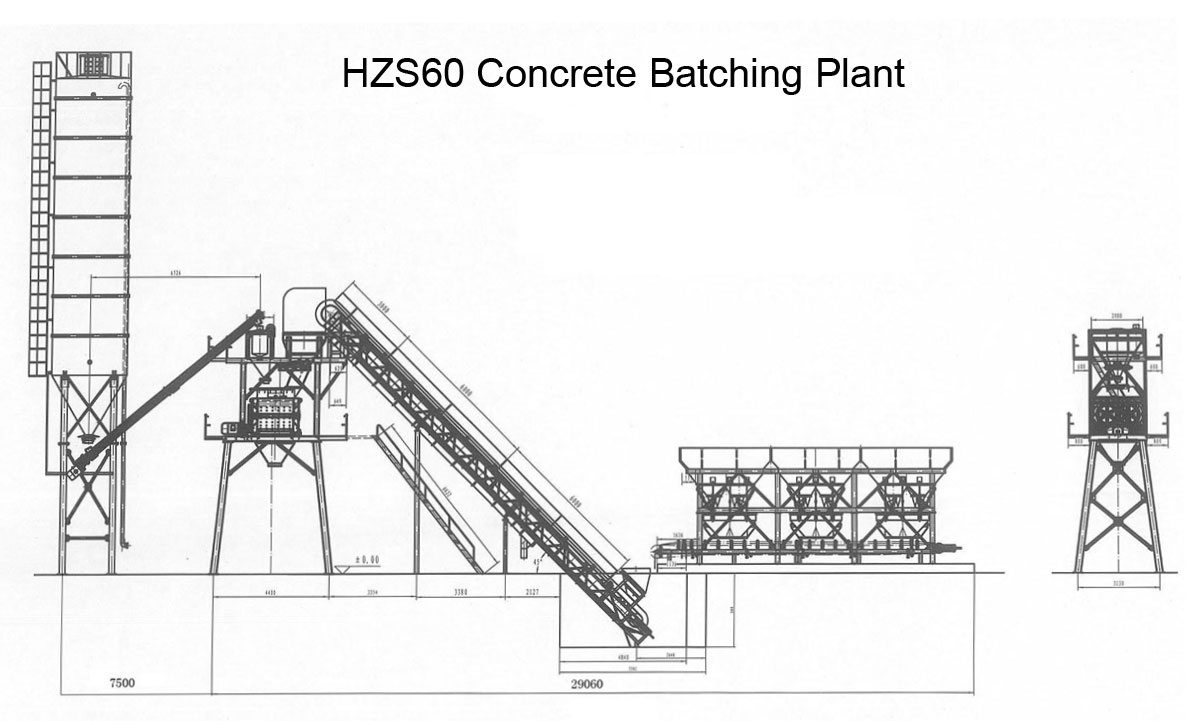 InquiryPlease feel free to submit your inquiry information to us. We will contact with you as soon as possible