Self Loading Concrete Mixer 1.8 Cubic
Production Capacity: 1.8 Cubic Meter/Drum

Rated Power: 78kw

Fuel tank: 63L

Water tank: 400L
Product Details
Configuration and Drawing
Technical Features
Self loading concrete mixer mainly mixes plastic concrete and semi-plastic concrete. Haomei self loading concrete mixers have many types for your reference: 1.2 cubic meter, 1.8 cubic meter, 2.6 cubic meter, 3.5 cubic meter, 4 cubic meter, 5.5 cubic meter and 6.5 cubic meter.
During project,
mini self loading concrete mixer
truck loads materials by self, doesn't need any other auxiliary equipment, and it has characteristics of small volume, four wheels-driving and steering. What's more, it can discharge concrete at 270 degrees, which is much more convenient in all kinds of concrete production construction site, especially particularly small and narrow construction sites, it is very cost-saving for the majority of users.
Advantages of 1.8 m³ mini Self-loading Concrete Mixer
1.Independent water supply system, ensure the high quality of concrete.
2.Twin joystick&limited toggles are in tune with a smart cockpit design.
3.Zones of reach and comfort comply with ergonomic norms.
4.Command integration confers better control and maneuverability.
5. Achieved full in-cab machine control. (Easy and comfortable operation)
If you desire to buy a self mixing concrete truck , We Haomei is an absolutely reliable self loading transit mixer manufacturer, we have various products that have been exported to more than 83 countries and areas. And if you want to increase your ability on concrete , it is a wise choice to buy a self loading concrete mixer truck and we will give you reasonable self loading mobile concrete mixer price. Meantime, we can also supply ready mix concrete plant, concrete mixer with pump, forward transit mixer truck, etc. Please feel ease to contact us, we will give you a quick reply in 24 hours.
| | |
| --- | --- |
| Equipment Model | 1.8 cubic self loading concrete mixer |
| Drum geometrical capacity | 2680L |
| Discharge Capacity | 1800L |
| Engine Model | Yuchai 4102 Turbo-Charged |
| Rated Power | 78kw |
| Gear box model | ZL-265 |
| Gear | 4 forward 4 back |
| Fuel tank | 63L |
| Total hydraulic system capacity | 63 liters |
| Oil tank | 16 liters |
| Reducer | HJ80-43 |
| Hydraulic Pump | FC50/40 |
| Hydraulic Motor | BM5-160 |
| Water tank | 400L |
| Water supply | Time relay |
| Overall dimensions(L*W*H) | 7300*2600*2750 |
| Wheelbase (mm) | 2615 |
| Curb Weight (kg) | 5666 |
| Drive Form | Torque converter |
| Drum rotate | 270º |
| Drum Mixing Speed (r/min) | 13 |
| Chassis Max.Speed (kn/h) | 30 |
| Maximum grade | 30º |
| Maximum turning radius (mm) | 5270 |
| Minimum ground clearance (mm) | 280 |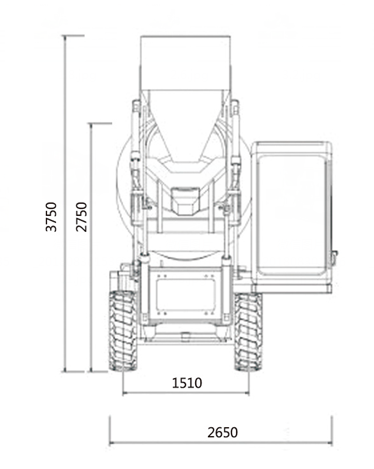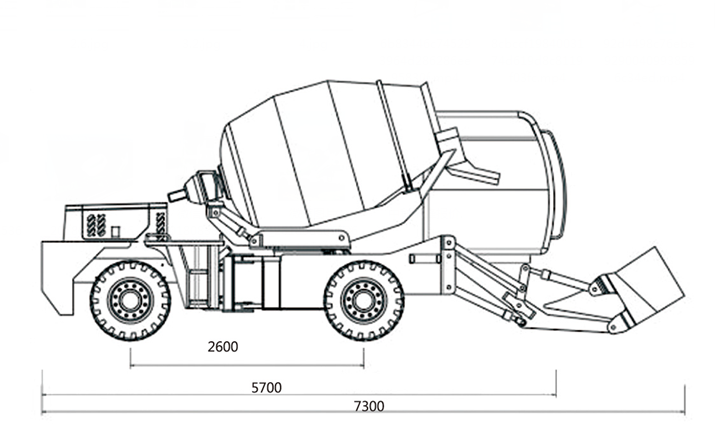 1. Shot blasting machine
When the elements are moved in to the machine, thousands of the little steel balls will heat on the surface of elements. Then the surface will become uneven, and it will increase the adhesive force. So it will ensure good painting.

2. Robot welding
Here are advanced technology of welding robots, which ensures high working efficiency and high accuracy

3. Closed painting room
In order to assure good painting and environmental protection, here is closed painting room. The machine will be shinning even after long time use. Moreover, we can also meet the environmental standards, so that we can manufacturer and delivery the equipment for our customers on time.

4. Sufficient elements stored
Here are sufficient elements stored in our factory, which ensures short delivery time. Meanwhile, we have ability to accept big orders from our customers.

5. Strict quality inspection
Here are quality inspection department, and strict inspection guarantees that the unqualitified equipment will be reworked and will not be delivered to our customers.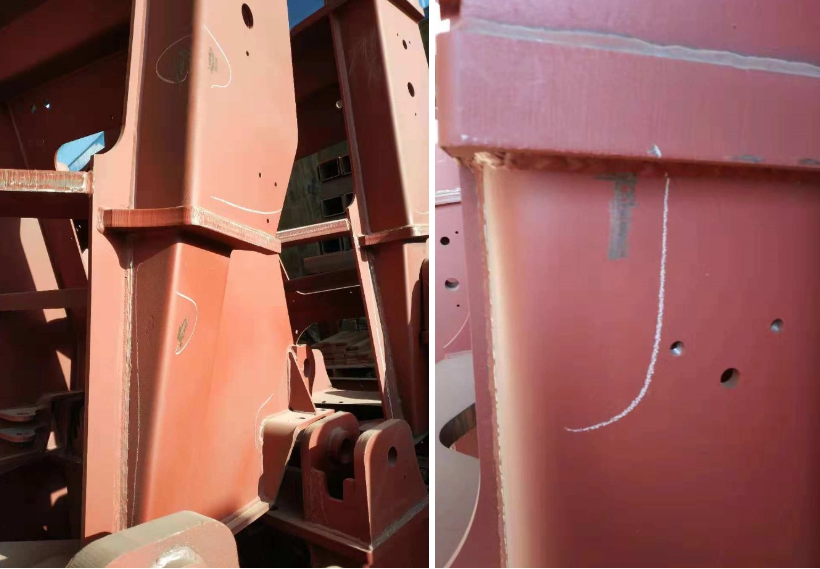 6. Test run
Here are wide areas for our customers to test the self loading concrete mixer truck, and welcome to test the mixer truck in our factory. Driving, feeding, mixing, discharging and climbing are available.

InquiryPlease feel free to submit your inquiry information to us. We will contact with you as soon as possible