Compact concrete batching plants for sale
2019.06.12
The Haomei compact concrete batching plants can produce a large amount of concrete to meet the needs of infrastructure and engineering construction such as roads, bridges, docks, building etc. With the compact structure, the concrete batching plant has small cover area, which will save the construction site rent cost, need less environmental protection measures, which will also save much cost.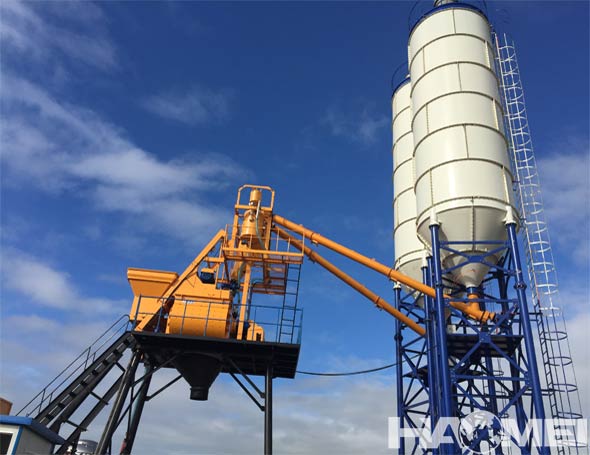 Then, what are the composition and the working process of compact concrete batching plants? First of all, the concrete batching plant is divided into four parts: sand and gravel feeding, powder (cement, fly ash, expansion agent, etc.) feeding, water and admixture feeding, transmission mixing and storage. After the concrete mixer control system is powered on. Enter the operation interface of the human-machine dialogue, and the system performs initialization processing, including recipe number, concrete grade, slump, production quantity, and the like. According to the weighing, the silo and the measuring bucket are detected, and the material empty or full signal is output, prompting the operator to determine whether to start the mixing control program.
After start the control system, sand and stone belt motor feeding to the measuring bucket; open the butterfly valve of the fly ash and cement tank, start the screw conveyor machine motor to transport the fly ash and cement to the measuring bucket; open the control valve of the water tank and the admixture tank to make the water admixture flow into the measuring hopper. After the measurement meets the set requirements, the metering bucket door is opened, the ingredients are mixed in the concrete mixer. After mixing, the compact concrete batching plants mixer door is opened at the set time, and the concrete truck that has been picked up.