Haomei YHZS mobile concrete batching plant for sale
2019.06.05
Haomei YHZS mobile concrete batching plant for sale 25-75m3/h can meet the requirements for speed, functionality and compactness. The YHZS Series mobile concrete batching plants are fully pre-connected, this mode of operation significantly reduces the time and cost required for the portable concrete batching plant to be installed and commissioned. The control room is connected to the main structure, the control system is installed in the control room. All the equipment are commissioned before leaving the mobile concrete batching plant factory.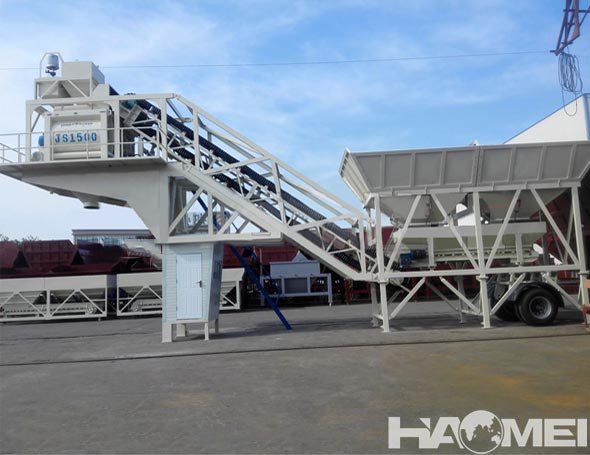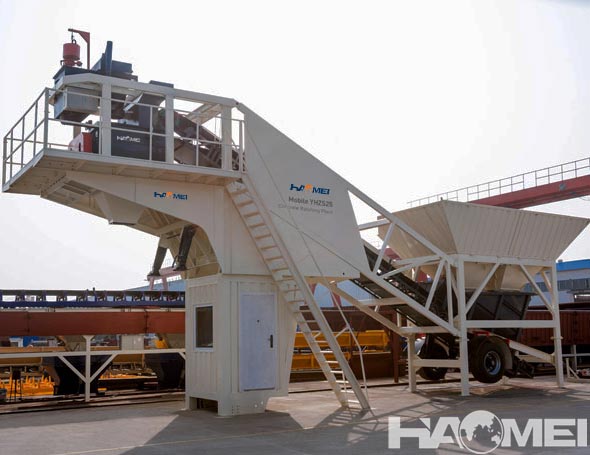 The YHZS mobile concrete batching plant equipment does not need to be disassembled and connected during the transition. The pneumatic system and the main structure are also closely linked together, and the equipment on the chassis can be transit as one unit. The equipment configuration of mobile concrete batching plant is advanced, the control system is fully automatic, so the mixing performance is great. Here we can see the specific configuration of YHZS25 mobile concrete batching plant:
Model: YHZS25
Theoretical productivity: 25m3/h
Mixing host: JS500
Maximum bone size: 60mm
Aggregate bin capacity: 2/3×3.2m3
Aggregate: conveying method
Aggregate weighing accuracy: ±2%
Powder weighing accuracy: ±1%
Water weighing accuracy: ±1%
Discharge height: 3900mm
When you are going to purchase a set of mobile concrete batching plant for sale, we Haomei can give you some guidance for having over 20 years' experience on concrete mixing equipment manufacturing:
1. In addition to the mobile concrete mixing plant as a whole, it is also necessary to choose cement silo. The number of cement silos purchased is consistent with the amount of silt.
2. The overall structure does not include the tractor head. The selection and purchase of the tractor head requires additional instructions.
3. If you can provide annual production, or monthly production demand, we will recommend the appropriate mobile concrete batching plant model to you.